5 Reasons to Travel to India
If you wish to visit India, you will discover a country of incredible history, great wisdom, ruins if ancient spaces, fantastic nature, eastern spices and everything that will help you see the other side of the coin.
You probably know that this particular country was one of the first civilizations in the world, and it created numerous other things that we do daily such as badminton, Ayurveda and many more.
When planning your trip to India, one of the things that you can do is to get travel tips online or from sites like the IndiaSomeday.com website. You will be able to get all ideas that will help you determine why India is the perfect country to visit. 
We decided to present you exciting facts about this particular country so that you can start planning a trip as soon as possible:
Color of Locals Is Completely Unique
Have in mind that India is a multinational country in which you can find more than four hundred different ethnic groups. When compared with other nations in the world, India is filled with young people in general.
Have in mind that half of the population are women and men before the age of 25, while the 2/3 of entire population are people that are before the age of 35. 
Have in mind that the overall constitution of the nation includes approximately 1600 different languages and 21 conventional ones based on the laws and regulations. If you wish to learn more about India's languages, you should click here. 
At the same time, men tend to wear T-shirts and jeans while women sarees, which is not that different from Western culture in general. However, older adults tend to wear lungi, which is a piece of fabric you should wrap around your body.
Remember that locals are open, friendly, and generous, and in all situations, they are kind to tourists.
As soon as someone visits India for the first time, they hope to see animals such as elephants in the wilderness. However, you should remember that these are highly expensive animals, which means that only wealthy and affluent people can generally afford them.
On the other hand, camels are highly affordable, which is why you will see them across the way. At the same time, it is vital to remember that cows are sacred and highly respected. 
They can walk around the enormous metropolises and cities such as Delhi, and in most cases, if you decide to kill a cow; you will have to suffer severe penalties in general.
For instance, in the state of Haryana, if you kill a cow, you will have to go ten years in prison. On the other hand, you should have in mind that only Christians and Muslims tend to eat beef legally.
Check this link: https://cjp.org.in/cow-slaughter-prevention-laws-in-india/ to learn more on cow slaughter prevention laws in India. 
You will find numerous examples of animals and plants within the country, which will provide you a unique approach to things that surround you. Have in mind that India is one of a kind place that you have to visit if you wish to travel the world.
The first thing that pops your mind when it comes to transportation in India is crowded streets in which everyone honks and tries to go a separate way. For instance, as soon as you signal, that is the sign that you wish to make a turn, so you should make a sudden move as soon as you hear it.
However, this should not be a deal-breaker, because the quality of transportation depends on the price you are willing to spare for it. At the same time, you will be able to use general class but have in mind that it is cheapest solution that you can find.
In case that you decide to pay more for it, you will be able to enjoy in a separate compartment where you can hang with your family, and you will get air conditioning and other treats with it.
Finally, you can choose luxury as well by entering the train routes that feature five starts, and you will be able to travel entire India without any additional problem. 
According to past users, it is one of the most luxurious trains in entire Asia, which is something you should try if you can afford it.
Have in mind that Mumbai is the richest or wealthiest city in India, so you will be able to see numerous skyscrapers and things derived from Western and modern metropolises. 
At the same time, Jaipur features the largest sundial in the world, which is another crucial consideration you should remember.
Apart from that, you should visit famous temples such as Ellora Caves, Kashi Vishwanath temple, Tirumala Venkateswara temple, Meenakshi, Jagannath and others that are relevant as well.
Apart from temples, you will find numerous mosques as well inside approximately 300 thousand, which is a significant number. 
For instance, did you know that one of the most prominent landmarks of India, Taj Mahal, requires 20 thousand workers to build and more than 30 years as well?
Have in mind that people from India enjoy spicy food in general, which means that you should ask them to avoid adding them in case you do not want to eat them. 
We are talking about spices that only in the latest few decades gained prominence in Western worlds such as garam masala, asafetida and cumin.
Since most Indians are vegetarians, you can find numerous places where you can purchase a vast array of vegetables. The dishes are perfect and will impress you with their richness and color, while different areas feature different perspectives and foods that are great to consume
You can find bottled water everywhere but have in mind that it is highly challenging to find alcohol beverages. Even though it is not officially prohibited, in some states it is limited or also banned unless you go to specific stores.
By checking here, you will be able to learn more on alcohol laws in India. 
India is famous for wide array of teas, which is something that you have to try when you visit it. For instance, masala chai is fantastic to drink that features soft and tender taste that will provide you peace of mind along the way.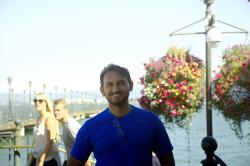 Aniket Singh - IIT Madras, Apple Inc
Aniket Singh works for Apple Inc. in California. He comes armed with a treasure trove of experience and knowledge gained through his internships abroad. Singh loves to talk to students during their formative years so that they can avoid anything that is not helpful to long-term growth. Singh holds a BTech degree in Electrical Engineering from the IIT, Madras, Chennai, and a Master's degree in Wireless Systems from Politecnico Di Torino in Torino, Italy. He has interned at the University of Southampton in the United Kingdom and Ecole Polytechnic Federale de Lausanne in Lausanne, Switzerland during this studies. For a rewarding internship and career, take the first step. Visit him at www.aniketsingh.com Check out his book at Intern Abroad This Summer
Related Articles
Read more from Travel