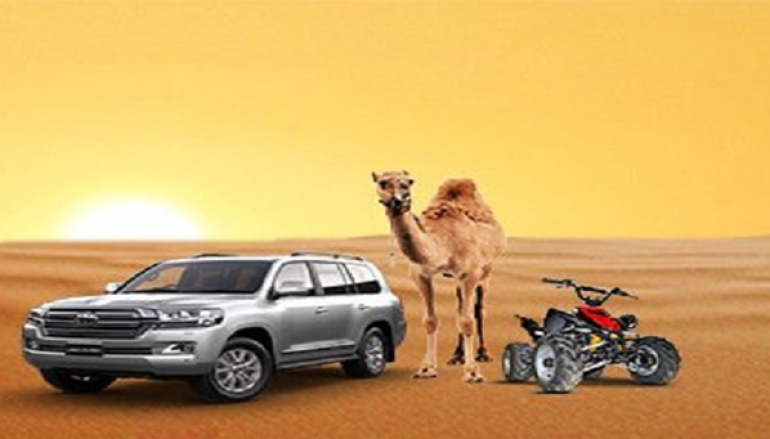 Desert Safari and Attractions in Dubai
Dubai is known for its most beautiful and lively tourist places that attract the large number of tourists across the globe. From ancient to modern architectural structures to charming tourist sites, Dubai is indeed a tourist destination where tourists can enjoy holidays with exceptional experiences and delights of desert safari.
Desert Safari Tour
You do not want to miss this one. The lively and adventurous safari gives the wonderful opportunity to explore the charm and golden sands driving in a safari car and jeeps and enjoy the various styles of deserts and sand dunes. One can also enjoy camel safari and desert bike safari and enjoy the Safari at all the precious moments of life. Welcome to Dubai Adventures Desert Safari where you'll experience the most memorable tour of your life. Pick up time at 3:00 PM and drop off time at 9:30 PM through a 4×4 land cruiser. Drinks and refreshments, including coffee and tea, included. Arabian costumes for picture taking Sand boarding, Sharjah desert safari, dune bashing and desert driving included Belly dancing and tanoura dancing. Henna painting/tattooing Camel farm visit Meals, including Arabian, desert safari al ain and Western dishes are served.
Complete Itinerary of Desert Safari
Dubai Adventures trained staff will pick you from your home or hotel and takes you for desert safari. There is approximately a 45 minutes' drive to a meeting point in Al Avir. Because all Land cruisers will eventually meet at this point for group dune bashing. You can find about 15-30 minutes wait around as all vehicles get there, You can take some wonderful photographs. Remember, you're still on the way, not in the deep desert. This is actually the starting point to the desert. You may see young Arabs showing their skills by doing driving activities on Quad bikes. Also, Safari guides will look at the tire-pressure. After this, all Land cruisers start entering the desert. At that short second, you begin to sense the pleasure of dune bashing. The cars will climb on high red sand mountains, driving across various sand dunes at a 45-degree angle, Its 'an astonishing experience.
After relishing in the pleasure and pleasure of dune bashing, which is the most interesting part of Desert Safari, now it's, time to go to Arabian Desert camp. Take a long camel safari and try horse riding, you can find camping tents, chairs, and dining tables so sit back and relax. There's a centre stage in the camp for various dance shows with live music, through the entire barbecue, wonderful waiters are ready to serve. The tour operators will start a barbecue dinner they'll do everything to simply cause you to feel great certainly. The barbecue buffet dinner is the part of every desert safari bundle.
Dubai Beaches and City Attractions
Dubai has some of the most beautiful beaches that are ideal for the beach destination as well as water sports and activities. When visiting Dubai be sure to explore the charm and splendour of some of the most beautiful beaches that include Palm Beach in Dubai, Jumeirah Beach and Rotana Beach. Burj Khalifa – an architectural masterpiece. With its height of 828 meters, Burj Khalifa is the tallest building in the world and a major tourist attraction of Dubai Tourism.
Hatta Desert Village
Hatta Village also called Dubai Heritage Village. One of the most unique tourist destinations in the world where you can see the Emirate's maritime past. This village allows tourists to enjoy and explore the charm of barasti or palm leaves and mud houses, which is really different from what Dubai is known around the world. This is the other world of Dubai since Dubai presents itself in the world having the most beautiful monuments and buildings embracing the sky. Really a visit to the village of Hatta gives the wonderful opportunity for tourists to see the overview of the historic village that goes back thousands of years, Go ahead and grab best safari deals in desert
Beside all this, there are many other Dubai sights that are well worth visiting and exploring to make the visit enjoyable and memorable. For a hassle-free visit, visit one of Dubai's leading tour operators and enjoy a vacation with exceptional experiences to savour forever. More than anything, Dubai Adventures is quickly capturing tourist attractions with its many attractions that are simply outstanding and are beyond any other tourist destination in the world.
Related Articles
Read more from Travel