A Day Trip to Seville is well worth the effort.
To many European holidaymakers in the Costa del Sol the thought of a day trip to Seville probably doesn't even cross their minds. Having travelled extensively to Seville [or Sevilla using the Spanish name] for over 2 years the journey became easier and easier. All be it, I would stay in the City longer than a day [it tended to be there 3 or 4 due to business commitments] however with the express train from Malaga the trip can easily be done in a day and giving you enough time to enjoy the Andalusian Capital.
For me, flying to Seville [from the UK] would mean two flights, mainly with a connection in London. However I could fly direct to Malaga and catch the express train to Seville which takes under 2 hours. This means accessing Seville – for the day trip visitors – is ideal.
The railway station is located not far from the centre and a short taxi or bus ride will get you into Plaza Nueva in no time. There is also a tram system not far from the station and if you jump on this it will take you directly to the centre.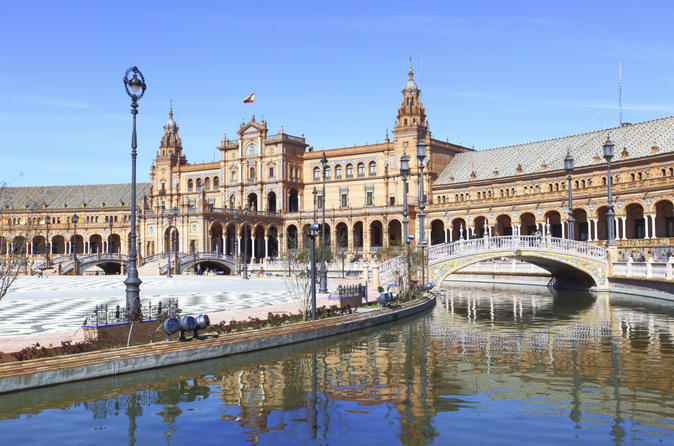 I would highly recommend jumping aboard the Seville hop-on hop-off open top bus tour if you are only in the City for one day. In a short space of time, the bus will give you a quick sightseeing tour of the City and set the scene of this wonderful Roman, Moorish and Castilian styled Spanish city. As the tour is hop-on hop-off you can jump on and off the bus as many times as you like during the tour. There are some great stops too and you will have time to explore; like the Torre del Oro [the Bull Ring and the first stop on the tour] and Plaza de Espana which was built in 1929 for the Ibero-American Exhibition. It is set in the Parque Maria Luisa grounds which are worth walking around and enjoying and ice-cream in the sunshine.
I'd also make sure you jump off to see the Las Setas De Sevilla  – the Metropol Parasol – a wooden structure designed by the German architect Jürgen Mayer and completed in April 2011. Stop here for a quick a lunch at La Surea set in the shadows of the wooden structure.
Once you are back on the bus there are lots of places to stop off at and one I would note for a later trip is the Isla Mágica Theme Park but you should have time for a quick drop into Seville's Cathedral.
The bus tour gives you a really good insight into Seville both old and new and sets the scene for a possible return trip and staying for a few days.
Seville also boasts some great cafes, restaurants and bars so you will never be short for places to stop for a coffee, beer or tapas. It also has a great range of shops from big named brands and malls plus unique boutique shops too.
Exhausted after a quick but busy and fulfilling day you can relax and reflect on your day-trip aboard the return express train to Malaga.
Related Articles
Read more from Travel